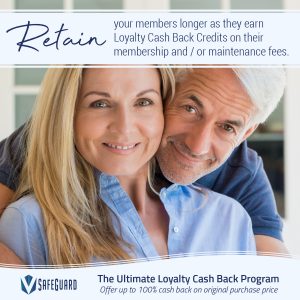 SafeGuard, a unique Loyalty Cash Back Program that helps to increase sales and retention of vacation club memberships has released more new features that will help vacation ownership clubs and resorts to rebound faster after the unprecedented shut down due to the Coronavirus Pandemic.
Launched in 2017, SafeGuard's Loyalty Program significantly enhances the value proposition of vacation ownership products by giving vacation club members the opportunity to earn up to their original purchase price back over time, simply by staying loyal to the club where they purchased the membership.
The program, which improves first day sales, member upgrades and member retention is rapidly expanding throughout the vacation ownership marketplace and as demand continues to grow, so do the additional features of the program itself.
To further increase member retention, SafeGuard's Loyalty Program can now also be applied to annual maintenance fees, improving overall revenue for resorts and clubs, even those that are no longer in active sales.
Two options are available:
Pre-Paid Maintenance
Members have the option to pre-pay several years of maintenance fees providing guaranteed revenue to the vacation club, in return for a cash back option after a pre-determined length of time.
Annual Maintenance Loyalty Credits
Vacation Clubs or Management Companies have the option to absorb a small fee each year that they incrementally place in the loyalty program which provides each member with annual credits that can be applied towards future maintenance fee payments, promoting continued membership through an accrued discount and driving additional revenue directly into the vacation club.
Resort Developers and Vacation Clubs looking for more information on how to include Vacation SafeGuard in their membership programs should visit https://safeguardloyalty.com/info
About SafeGuard
SafeGuard is a one-of-a-kind service provider in the direct sale industry. Clients can utilize one of a selection of unique Loyalty Programs to enhance their own products and give customers the opportunity to earn up to 100% of their original purchase price back over time. With annual credit allocations and flexible usage options, each program improves sales, upgrades and customer retention, thereby increasing overall revenue. For more information visit https://safeguardloyalty.com/info