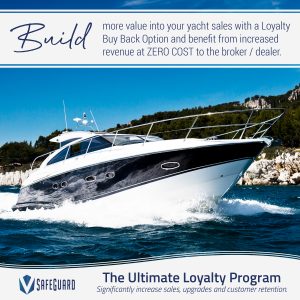 Following the continued success of SafeGuard Loyalty Programs, a unique program that helps to increase sales and retention of lifestyle purchases, SafeGuard LLC has announced its award-winning program has secured its first yacht broker clients for the recently released options for Yacht Ownership and Yacht Clubs.
Originally launched in 2017 for leisure real estate purchases and vacation memberships, SafeGuard has continued to expand into a variety of adjacent industries; such as golf clubs, campground memberships, and more recently yacht clubs, yacht ownership, recreational vehicle ownership, jet ownership and jet memberships; and has partnered with clients around the globe to provide loyalty-based cash back or buy back programs.
The Loyalty Program for  Yacht Ownership offers a no risk solution that enhances the enjoyment of owning a yacht. It provides a guaranteed buy back option at 100% of the original value after a pre-determined length of time, removing all loss from depreciation of the asset.
If yacht owners don't want to keep the vessel the full length of time, they have the ability to surrender the buy back option early in favor of credit towards a new purchase with the same vendor, which also drives customer retention and loyalty for yacht dealerships and brokers.
Finally, for total flexibility, should the yacht owner prefer to opt out of the Loyalty Program and keep the yacht, or sell privately, they can opt out any time after just 25% of the program term has elapsed and receive back 100% refund of the Loyalty Program fee.
For those that operate yacht clubs, SafeGuard offers a 100% cash back program, where customers can earn back up to 100% of the initiation fee, or redeem early as credit towards membership upgrades or any other qualifying club expenditure.
The Loyalty Programs are simple to understand with pre-determined redemption values at pre-determined lengths of time. It is secured by an insured structured finance vehicle that holds funds in a managed trust which is also protected by A grade specialist insurance to guarantee all qualifying payouts.
"Our success with other high-value lifestyle purchases and exclusive membership programs, we know that yacht brokers and dealers will immediately see the value in our programs. Our program improves the value proposition for purchasers and helps reduce the long-term costs associated with ownership or usage." Says Duane Lee, CEO, SafeGuard LLC.
SafeGuard specializes in mid to long-term lifestyle purchases, where the fee can be included in a sales price by the vendor, or as an add-on that is paid separately by the customer as needed.
For more information visit https://safeguardloyalty.com
Request a brochure by visiting https://safeguardloyalty.com/info
About SafeGuard LLC
SafeGuard is a one-of-a-kind service provider in the direct sale industry. Clients can utilize one of a selection of unique Loyalty Programs to enhance their own products and give customers the opportunity to earn up to 100% of their original purchase price back over time. With annual credit allocations and flexible usage options, each program improves sales, upgrades and customer retention, thereby increasing overall revenue. For more information visit https://safeguardloyalty.com/info